Come One – Come All!
The Best Value in Town
Welcome to the home of Berea's National Rib Cook-Off &am; Beer Fest, recently named one of 15 Can't Miss Food Events in Cleveland. Year to year, some things never change about the Cook-Off. From face-painting to a rock climbing wall, Berea's National Rib Cook-Off & Beer Fest makes a special effort to create family friendly environment with a picnic style atmosphere. Our Festival offers FREE PARKING ALL WEEKEND LONG, FREE ADMISSION for kids under 12, and in celebration of National Military Appreciation Month, on Monday (Memorial Day), Retired & Active-Duty Military personnel showing proper military ID will be admitted for FREE. General Admission is FREE ON FRIDAY BEFORE 5PM, ONLY $5 AFTER 5PM, AND JUST $5 ON SATURDAY, SUNDAY, AND MONDAY (MEMORIAL DAY). MUSICAL ENTERTAINMENT is FREE all weekend long with your paid cook-off admission.
Rib Info & Pricing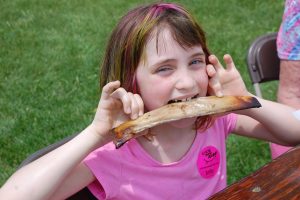 NEW THIS YEAR! – To keep things affordable for all, Berea's National Rib Cook-Off & Beer Fest has established consistent pricing for ribs and associated items so that patrons can budget accordingly. All ribbers have also agreed to offer two bone samplers, so that you can try a little variety… it being the spice of life and all. So strap on your bibs, and get ready for ribs!
Full Slab Dinner – $25
Full Slab – $23
Half Slab Dinner – $18
Half Slab – $16
1/3 Slab – $12
2 Bone Sampler – $6
4 Bone Sampler – $11
Pork Sandwich – $8
Chicken Sandwich – $8
Brisket Sandwich – $10
Call for Artists & Crafters
Berea's National Rib Cook-Off & Beer Fest is seeking handmade crafters to display and sell their work at the cook-off. If you are interested, please contact Marie Pochatek by email at Gristhree@hotmail.com or by phone at 440-234-5181.